End of an era as the Derry Journal turns over new page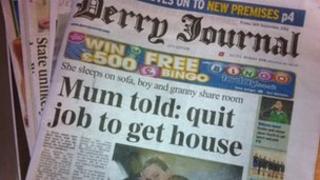 One of the oldest newspapers in the world is turning over a new page with a change of premises.
The Derry Journal is leaving the Buncrana Road in the city after over 40 years, and moving to new offices at Pennyburn Pass less than a mile away.
It is only the third time the Journal has moved offices in 240 years.
The first offices were in Shipquay Street where the Richmond Centre is now.
Editor, Martin McGinley, started with the Journal in 1980 and said the paper, like the industry is unrecognisable from that time.
"I was a cub reporter. People might have recognised the newsroom from old films, it was very much like that.
"I sat down to a manual typewriter, I thumped out the story. You took your story and you folded it over and because it was on paper hoped you had a good thick bunch to bring into the editor."
The Derry Journal holds perhaps the most important archive on the history of the North West and Mr McGinley said experience has taught them to be extremely careful when moving it.
"We will be packing up the archives very carefully today because one of the things that happened when we moved in 1970 from Shipquay Street was that there was an accident and a lot of glass negatives were actually broken, so extra care will be taken with this move."