Historic Londonderry building sold to local businessman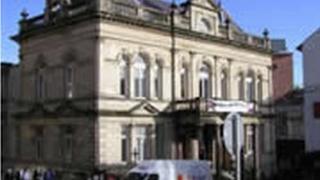 One of Londonderry's most historic buildings has been bought by a prominent local businessman.
St Columb's Hall in the city centre has been bought by the Garvan O'Doherty Group.
A spokesman for the Catholic Church which owned the building said the sale would secure its future
The sale required approval from St Columb's Diocese Trust and the Charities Branch of the church both of which have been granted.
Fr Paul Farren said the sale was a positive move by the church.
"It means that over the next number of years our debt of £690,000 will be cleared.
"We will be in a position to begin again to invest in this Church and the people of this parish to ensure that we will build up the faith as we face the future.
"Over the last years a number of people approached with different and interesting proposals.
"These were examined and in depth discussions were had about their viability.
"Having considered them the conclusion was reached that the Garvan O'Doherty Group proposal was the best both for the hall and for the parish.
"This means that the future of the hall is secured and the necessary investment will be made to ensure the building is restored and maintained and developed into the future," he said.