Historic Sion Mills building set for new ownership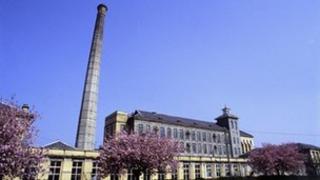 The historic Herdman's Mill building in Sion Mills may finally get a new lease of life.
The listed building has been vacant since it closed with the loss of nearly 300 jobs eight years ago.
Last year it was badly damaged in a fire but sealed bids are being invited for its sale and it could be in new ownership next month
Norma Smyth from the Sion Mills Preservation Trust said she hopes it stays in local ownership.
She said two prominent local businessmen have already expressed an interest in the 66 acre site.
They are Kieran O'Neill, the owner of O'Neill's sports clothing firm, and Eamon McCay, the managing director of Frylite.
"They are local men, they live in the village, their forefathers worked in the mill and they have the same vision that we as a trust have.
Support
"We would be delighted to support them in the bid.
"Their interest would be in the sports fields that are part of the site as opposed to the buildings, and they would leave the buildings to the trust because we are the only people that can raise the public funds to be able to restore this building.
"Anybody else buying the building that hasn't talked to the Trust will have to go straight into a repairs notice but we have a plan to support them if they will work with us.
"We are talking about probably a five to ten year project before we would see any serious developments but initially there are buildings that can be used.
"There is land that can be used, we could start immediately to create employment."
The mill was put up for sale in March 2012, with an approximate price tag of £10m.