McDowell Snr backs 'Team' Europe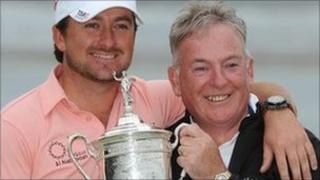 Graeme McDowell's father believes Europe have the edge over the USA in the Ryder Cup because of their team ethic.
Kenny McDowell said Europe has a history of team play in the competition which the Americans can not match.
"Europe are a team while the Americans are a load of individuals who don't pull very well together."
McDowell senior hopes Graeme will be paired with world number one Rory McIlroy in Friday's opening foursomes.
"It's looking that way but you never know what captains can do and four vice-captains as well.
"I'm sure they will talk a lot about it but there are 10 other players who would all like to play with Rory.
"You would think for sure that they would put the two Irish boys together."
Course
Kenny McDowell has been in Chicago this week ahead of Friday's tee-off and has had a look at the Medina course.
He does not believe the course has been set up to suit the American team's players.
"The USA captain Davis Love got about 150 trees taken out around the course. Why we don't know we were trying to figure that out yesterday.
"Maybe it was to get more wind in certain players but that wouldn't suit them any better than it would suit us."
The rivalry between the teams and their supporters has increased in recent years, but Kenny McDowell said European players, their families and fans have received a warm welcome in Chicago.
"Its just the practice stages at the moment but the players have been well received.
"But when hardy comes to hardy on Friday and that first tee shot is hit I would say it will be quite hostile then."