Magilligan prison: Ford says closure is not a done deal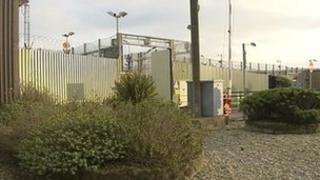 The Justice Minister David Ford has denied a decision has already been taken to close Magilligan Prison in County Londonderry.
A consultation process into the prison's future is ongoing.
On Monday Mr Ford, told a public meeting attended by about 20 people in Limavady that no decision has been reached.
The Prison Service wants to replace Magilligan with a new jail closer to Belfast.
"I don't know how often I can say to whatever forum I go to that when we do consultations at the Department of Justice, they are genuine consultations.
"That's why we have had a number of stakeholder meetings over the last couple of weeks.
"We take the information that was given at these meetings and from the written submissions as to what the best way of managing prisons in Northern Ireland," said Mr Ford.
The MP for the area, Gregory Campbell, attended Monday's meeting, and addressed Mr Ford.
"If you look at the name of the prison service it isn't the Greater Belfast Prison Service, it's the Northern Ireland Prison Service which presumably is for all the people of Northern Ireland."
"If they close Magilligan and relocate to Maghaberry all four prison facilities will be in the Greater Belfast area and the whole of the rest of Northern Ireland won't have a single prison.
"I raised the point that this will cost £10m in transportation costs over the next three years, and they have to buy the land.
"It is a done deal that they should rebuilt Magilligan because the argument is there it is an unanswerable case."