63-year-old Derryman admits sexual assault of schoolgirl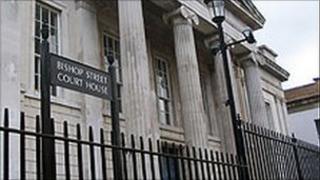 A 63-year-old man who pleaded guilty at Londonderry Crown Court to sexually assaulting a 15-year-old schoolgirl will be sentenced this week.
James Gallagher from St Columbs Wells in Derry admitted intentionally touching his victim in a sexual manner at the Bay Road Park in the city on 24th July 2011.
His victim was drunk at the time and had been separated from her friends.
Gallagher was remanded in custody and will be sentenced on Friday.
Defence solicitor Des Fahy said Gallagher was no longer able to live in Derry and would have to live for the rest of his life with the consequences of his offending.
A prosecution barrister told Judge Piers Grant that Gallagher approached the girl and offered to help her search for her mobile phone which she had dropped.
She was upset and crying and Gallagher put his arms around her and pushed her to the ground, kissing her before sexually assaulting her.
The barrister said the schoolgirl was too weak to resist Gallagher and she kept saying no and crying for her mother.
She said Gallagher eventually released her after she agreed to meet him the following afternoon.
The girl ran off and flagged down a passing car. The driver and passenger took her into the car and phoned the police.
When the police arrived the two adults in the car and the schoolgirl pointed out Gallagher to them. The police stopped Gallagher and arrested him.
During his police interview Gallagher said he thought the girl was aged between 17 and 20.
He said they bumped into one another as they searched for her missing mobile phone. They then kissed and cuddled and Gallagher said any sexual contact between them was consenual.
He said the girl told him that her mother would be angry with her because she had been drinking and had become separated from her friends.
The barrister told Judge Piers Grant that a victim impact report stated the assault had a significant impact on the girl.
Her homework deteriorated, she suffered from sleep disturbances and she continues to receive intervention therapy.
Defence solicitor Des Fahy said Gallagher has been in custody since his arrest for the offence 15 months ago.
He said that equated to a three year jail sentence.
Gallagher was remorseful and his offending was totally out of character.
He said pre-sentence reports stated Gallagher did not pose a significant risk of causing harm.