Londonderry shooting attack target refuses to leave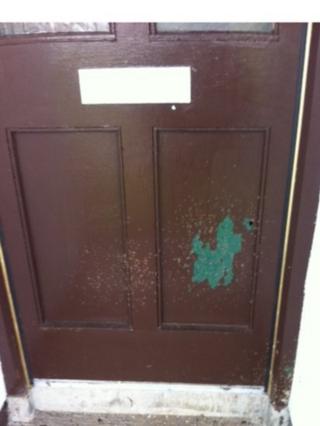 A man who escaped injury in a gun attack at a house in Londonderry says he will not be intimidated out of his home.
It is understood a shotgun was used in the incident at Drumard Road in Hazelbank at about 22.30 BST on Monday.
The 25-year-old was downstairs watching television when several shots were fired at the front door and an upstairs window.
He was alone in the house at the time and was not injured.
The man, who does not want to be named, said despite what has happened, he will not be moving.
"There are two big holes in the door and loads of pellet holes as well.
"There are bullet holes in the upstairs window too.
"The bottom line is I am not scared and I will not be moving out of my home it is as simple as that.
"I am definitely staying."
The SDLP MLA Pat Ramsey condemned those responsible for the shooting.
"Those involved need to step aside and let the city's positive image shine through," he said.
"I condemn this shooting wholly. The victims are distressed and shocked that this happened.
"On the day the entire island of Ireland is looking at Derry and reflecting in the glow of Lonely Planet stating that Derry is the fourth best city in the world to visit in 2013, we have people hell-bent on disrupting that positive image.
"These people need to step aside and let us get on with making that positive contribution. I urge anybody to pass whatever information they know about this to the police.
"Derry cannot afford to have people running around with guns and firing them into people's homes."