Winning lottery ticket found by Strabane taxi driver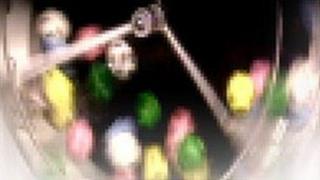 A taxi driver has found a "substantial" winning ticket from the Irish lottery in his cab.
Marty Quinn, of Strabane, County Tyrone, found the ticket when he was cleaning out his car on Sunday morning.
He believes the owner may be from the Douglas Bridge or Sion Mills area of the county.
The ticket was bought in a local bookmakers and features a series of winning numbers from the 20 October Irish lottery.
Mr Quinn said he hopes to reunite the ticket with the owner.
"It was on the floor of the car.
"I didn't realise it was a winning ticket until I checked the numbers on Sunday night.
"It isn't the jackpot, but it is a nice amount."
Mr Quinn would not reveal the exact size of the win, so he can be sure if anyone comes forward to claim it, he can be sure they are genuine.
"I don't think it is anybody from Strabane, it's more likely to be around the Sion Mills area because that is where I was on Saturday night.
"I haven't had one inquiry yet, they must have plenty of money in Sion Mills.
"If no-one comes forward I don't know what I will do, but Spain sounds nice at this time of year."