Street entertainer ordered to leave Londonderry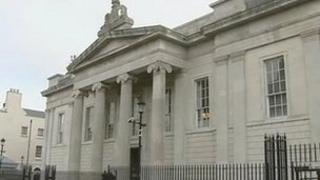 A street entertainer who was contracted to take part in the Halloween festivities in Londonderry has been ordered to leave the city by District Judge Barney McElholm.
27-year-old Jasm Kahla, from Killard Square in Balllyhornan, County Down, appeared at Londonderry Magistrates' Court on Wednesday charged with indecently exposing himself and with committing indecent behaviour.
The alleged incidents took place at a flat in Clarendon Street in Derry on Tuesday morning.
He denies the offences and is due to appear in court again on 22 November.
A police officer told the court that the police received a phone call at 08:45 GMT on Tuesday morning from two female staff who work in an office directly across from where the defendant was staying with members of his family.
The women told the police they had seen the defendant standing naked in front of a window and behaving indecently.
The officer said the two women had made witness statements to the police about the defendant's alleged behaviour.
The police witness said, after he was arrested, the defendant admitted standing naked in front of the window but denied performing any sex acts.
Objecting to the defendant being released on bail, the officer said the defendant was convicted on 27 February of this year in another court division of indecent behaviour involving children.
Concerned
He said he was concerned that the defendant was currently under contract in relation to Halloween events at which large numbers of children would be in attendance.
There was, he said, a risk of the defendant re-offending, given his previous relevant conviction and he believed there was the potential for the defendant to interfere with witnesses.
Applying for bail, solicitor Seamus Quigley said the defendant's contract ended on 1 November. He said the defendant was in Derry with other members of his family who are also involved in street entertainment.
Mr Quigley said the flat in Clarendon Street, where the defendant stayed with family members, had only one shower.
Mr Quigley said that, while he accepted there was a clear prima facie case to answer, the defendant maintains that he accidentally stood naked in front of the window.
Releasing the defendant on his own bail of £900, together with two sureties, each of £900, Mr McElholm ordered him to leave the city immediately and not to re-enter the 30-mile-an-hour zone around the city, except for his next court appearance.
The defendant is to be electronically-tagged and he has been ordered to reside at his home address.
Mr McElholm also told the defendant not to enter within 50 metres of any child-centred location and not to have any un-supervised contact with under-18-year-olds.
He is also banned from any activity, paid or voluntary, which would bring him into contact with children.