Londonderry man charged with sexual assault of 15-year-old-boy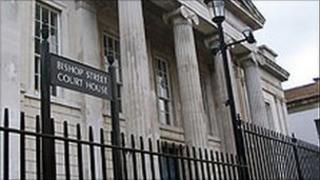 A 58-year-old man has gone on trial at Londonderry Crown Court charged with sexually assaulting a 15 year-old-boy 25 years ago.
Patrick Pius Peoples from Glenbank Gardens denies carrying out a serious sexual assault on the boy.
He also denies falsely imprisoning him.
The offences are alleged to have occurred in the Brandywell Sports Centre between 1 March 1986 and 30 September 1987.
The case is being heard by a jury of 10 men and two women.
In his opening statement for the prosecution, Crown barrister, George Chesney, said consent was not an issue in the trial because of the age of the boy at the time of the alleged offences.
He said between March 1986 and September 1987 the defendant was employed as a supervisor in the centre and the teenager often ran errands for him.
On one occasion the defendant is alleged to have asked the alleged victim to work in the sports centre for one week because the centre's cleaners were off.
Mr Chesney said that for his work he was given tracksuit bottoms by the defendant to wear.
He said it was made clear to the teenager that only he and the defendant would be in the centre.
The prosecutor said on one occasion when he arrived for work the defendant was wearing a T-shirt, shorts, and trainers.
Both went into a store room where chemicals were kept on shelves.
It is alleged that when in the storeroom the defendant sexually assaulted the boy.
The alleged incident lasted about one and a half minutes and when it was over it was claimed the defendant threatened the teenager not to tell anyone.
He is then alleged to have left the storeroom locking the complainant in for two hours.
He was eventually freed from the store room by four painters who arrived in the sports centre.
The prosecution barrister said the boy did not return to the centre for several weeks because he was upset at what allegedly happened to him.
When he did return he spoke to another supervisor about what he claimed happened but nothing came of it.
He returned to Derry last year and made his allegations to the police. The trial continues.