Drunk driver who killed woman jailed in Londonderry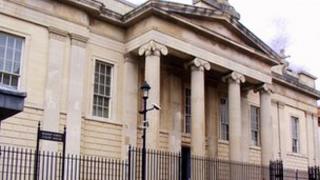 A restricted driver who crashed his car, killing a 20-year-old woman passenger, has been sentenced to three years in prison.
Kevin Brolly, 23, from Rannyglass in Dungiven, pleaded guilty to causing the death of Claire Kelly by careless driving.
He also pleaded guilty at Londonderry Crown Court to drink-driving and to driving without insurance.
He will serve 18 months in custody and 18 months on licence.
Brolly was also disqualified from driving for five years.
Jailing Brolly, Judge Piers Grant said that by his actions he had deprived a family of a loving sister, daughter and grand-daughter.
Judge Grant said he wanted to acknowledge the suffering and grief of Claire Kelly's family, several of whom were in court.
Also present were members of Brolly's family.
Judge Grant said the Kelly family had suffered an irreplaceable loss.
Deprived
Because of Brolly's actions they have been permanently deprived of seeing their daughter growing into adulthood, he said, acknowledging that nothing in his sentencing comments could assuage the suffering of the Kelly family.
Judge Grant said that at midnight on Sunday 11 December 2011, Brolly together with his passengers Claire Kelly and her boyfriend, was seen by members of a police mobile patrol driving in an erratic manner in the village of Feeny.
When he saw the police, Brolly made a hand-brake turn and drove off at speed in the opposite direction towards Claudy.
The police gave chase but the erratic nature of Brolly's driving, combined with his speed, forced them to abandon the chase as it would have been too dangerous.
Brolly was later seen overtaking a car in the Glenshane Road without his headlights on.
He lost control on a bend, and his car crashed into a field and overturned. Judge Grant said Miss Kelly was trapped inside the car.
She was still breathing at the scene but died in hospital.
When Brolly was breathalysed, he was found to be 50% over the legal limit.