Droppin' Well bomb: 30th anniversary commemoration held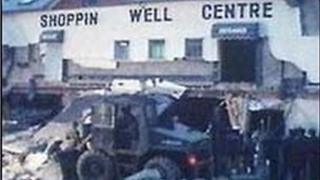 More than 300 people attended a memorial service in Ballykelly on Sunday for the 30th anniversary of the Droppin' Well pub bombing.
Six civilians and 11 soldiers died in the attack by republican paramilitaries, the Irish National Liberation Army (INLA) on 6 December 1982.
A former soldier said he would "never get over" what he witnessed that night.
The man, who did not wish to be named, knew all the soldiers who were killed.
Speaking at Sunday's commemoration, he said: "It's like it was yesterday, it never goes away. As long as I stay on this earth, I will continue to come here every year.
"It was an atrocity and should never have happened.
"I knew all the soldiers but I had a very special friend called Phillip McDonagh. We had some great times together, he was a star, everybody loved him."
The man said that although he comes to the memorial every year, he has only visited the Droppin' Well once since the bombing.
"I went there five years ago. It had been rebuilt and it brought it all back again, doubly hard.
"I wouldn't go back now. All my ghosts went that night, once I had been back again.
"I'll just leave it as it is now. It is still as raw as it was 30 years ago."