Black swan mystery solved as it reunites with owners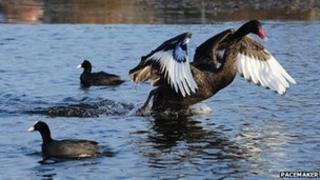 Christmas is the time for happy endings and that is what has happened for one Donegal family who lost a family pet.
A black swan named Michelle, who escaped from the Oakfield Park estate near Raphoe earlier this year has been reunited with her partner, after she was tracked down to a park in Belfast.
Sir Gerry Robinson owns the Donegal estate and its intrepid swans.
He thought Michelle was gone forever, until she popped up on a report on BBC Newsline.
Sir Gerry explained how he believes Michelle got away in the first place.
"She had her wings clipped and we didn't know enough about it so we clipped both wings.
"You are only supposed to clip one because it destabilises the flight and as the wings grew back she took off.
"She disappeared on 12 May, but she must have been lots of places around Northern Ireland and Ireland in general because I think she only turned up in the park on Belfast a few days ago."
Sir Gerry said that while everyone was delighted to have her back, her partner Barack, who was left to look after the cygnets while Michelle was away, was less than impressed at the disappearing act.
"She was massively greeted by all at first, and then she went through a day of probably a row or two.
"I've noticed in the last couple of days that Barack has been giving her the odd cold shoulder, and who wouldn't?
"The cygnets are very happy she has returned, but Barack is certainly less enthusiastic than he was when she first arrived.
Sir Gerry said they have now taken advice from experts on how regularly Michelle's wings should be clipped to avoid a repeat of her disappearing act.
"We will be talking to them quite a lot about how to look after her for the future," he said.