Man jailed over indecent pictures of teenage girls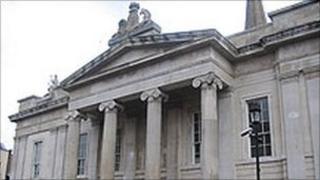 A 56-year-old man who pleaded guilty to taking indecent photographs of two teenage girls has been jailed.
William Gerald Burke from Coolshinney Road in Magherafelt pleaded guilty to placing his mobile phone below the skirts of the girls who are aged 13 and 16.
The incident took place at Meadow Lane Shopping Centre in Magherafelt.
At Londonderry Crown Court on Thursday, Burke was jailed for 10 months with a further 10 months on licence
He had a previous conviction for a similar offence in January 2007.
He admitted the charges after he was recognised by the police on CCTV footage recovered from the shop.
A pre-sentence report stated that Burke had an inappropriate sexual interest in children.
Judge Stephen Fowler described his offending as "a gross violation" of the girls' privacy.
Because he has already served nine months in custody since his arrest, he will be released next month.
He was also subjected to the conditions of a sexual offenders prevention order for 10 years, banning him from unsupervised access to children.