Animal cruelty: Judge refuses appeal on jail sentence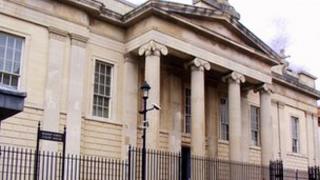 A judge at Londonderry Crown Court has refused to suspend a jail sentence imposed on a Country Antrim cattle dealer who admitted a charge of cruelty to a bull.
44-year-old Gregory Boyd, from Main Street, Rasharkin, admitted the charge last November.
He was jailed for two months and fined £5,000 for the offence at the Foyle Meats Plant at Lisahally in July 2011.
On Monday Judge Phillip Babington was asked to suspend the sentence.
Judge Babington was told the bull had to be humanely destroyed by a vet after numerous injuries were found on it when it was transported to the abattoir for slaughter.
The bull was also found lying on its side in a trailer unable to stand.
A prosecution solicitor said Boyd had two previous convictions, one for animal cruelty and another for having an excessive amount of drugs in an animal.
Refusing the appeal Judge Babington said photographs of injuries to the bull were disturbing.
He said he had grave doubts about the explanation given by Boyd that the bull had fallen over after Boyd had braked sharply on his journey to the abattoir.
Judge Babington affirmed the two months jail sentence but reduced the fine from £5,000 to £3,500.