Londonderry man is bailed after hospital incidents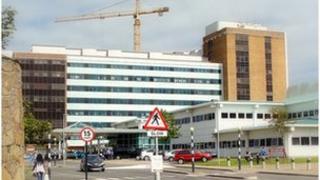 A 30-year-old Londonderry man has been bailed after pleading guilty to a second charge of disorderly behaviour at Altnagelvin Hospital.
Jonathan Richard McCobb, from Canterbury Park, committed the offence on 27 December.
In reply to the charge he said: "I regret what happened".
McCobb also admitted assaulting two police officers on the same date. In reply to those charges he said: "I regret that too".
District Judge Barney McElholm was told that when he committed the offence in accident and emergency last month McCobb was on probation following his conviction for a previous accident and emergency disorderly behaviour last March.
The case was adjourned until 1 March when McCobb will be sentenced following a pre-sentence report.
In the meantime he was granted continuing bail.