No room at the inn for Derry's Big Weekend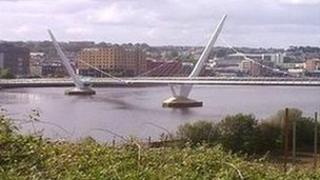 There are concerns that Londonderry will not be able to accommodate large crowds expected to converge on the city in May.
On Thursday it was revealed that Radio 1's Big Weekend will be held in the city on the last weekend of May.
A three-day international peace forum is also to be held in Derry on the same dates.
All city centre hotels for the weekend are fully booked.
The music festival is expected to draw a crowd of around 40,000 people while organisers of the peace forum expect around 1000 delegates to attend.
Chief executive of Derry city council Sharon O'Connor said "accommodation is a big requirement".
Campsites
She said the council had been "telling people about this for the past year" and running programmes encouraging people to set up informal accommodation options such as campsites.
"The Big Weekend is not necessarily about hotels. It is about the informal accommodation sector. Young people like to camp, to use bunkhouses and they are happy to share.
"The council cannot create that. We try and help people from the private sector and the community voluntary sector to respond to the opportunity that is there but really people need to take the initiative," she said.
Ms O'Connor said she felt that so far people were "holding back" when it came to formally putting arrangements in place.
An international peace forum organised by the Rotary Club of Londonderry and the University of Ulster's International Conflict Research Institute (INCORE) is also being held in Derry on the last weekend of May.
Surrounding areas
The forum is set to focus on peace-building and will bring together local and international political and community leaders including the former president of the Basque regional government Juan Jose Ibarretxe.
President of the Derry rotary club Gavin Killeen said the organisation had already spoken to city centre hotels, had booked a number of rooms that will be available to delegates and had also liaised with hotels in surrounding areas.
"We have spoken to hotels in nearby towns such as Letterkenny to book rooms, as well as arranging with local bus companies to provide a service that will bring guests to and from the forum," he said.
Martin McCrossan, chair of Derry City Centre Traders' Forum, said he believed the large crowd expected over the three days in May could be accommodated.
"People will not be afraid to travel when they come to Derry. We have towns such as Limavady, Strabane and Coleraine and many of the B&Bs right around the area will be glad to get the business."