Londonderry mother seeks answer over son's death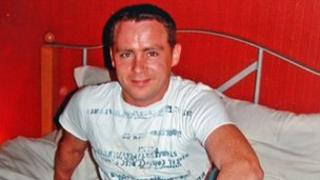 The family of a man who died hours after he was assaulted in Londonderry say they still don't know exactly what happened to him before or after the attack.
Terry McCartney was found dead in a flat in John Street on 6 February 2012.
The police are not treating the death as suspicious.
The 42-year-old was a well known campaigner for gay rights but his family say he "suffered all his life" for being gay.
He was badly beaten in a homophobic attack in 2004.
His sister, Michelle, says they don't know if he was targeted again because of his sexuality.
"The police know as much as we do. We just want to find out what happened to Terry leading up to his death, or leading up to the assault.
"He was hit once and went to the ground. A man picked Terry up. If he had a bit of information, it might only be a wee thing but it might help us find out what happened to Terry."
Terry's mother Margaret described him as popular and said he did a lot to help family and friends.
"It's not real to me at all. I still don't think Terry's dead," she said.
Answers
"I can't accept it because I don't know anything. I don't know whether he was out or how bad he was hit. Did he feel bad when he went back to the house because he was hit? I don't have any answers."
The family are still grieving the loss of another son who took his own life over a decade ago.
"I thought it could never happen again and it has," said Michelle.
I wouldn't wish this on anybody. I just wish we could get some answers," she said