Foyle College rape: Man who raped teenage girl in school grounds jailed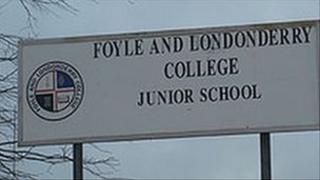 A 21-year-old man has been jailed for raping a 15-year-old schoolgirl in the grounds of a school in Londonderry in July 2011.
Adam Titheridge, 21, from Sittingbourne in Kent, was jailed for eight years and placed on licence for three years.
He was also placed on the sex offenders register for life after the court was told there was a "significant risk" that he may re-offend.
Titheridge had initially contested the charges but later pleaded guilty.
On the second day of his trial in December, Titheridge changed his plea to guilty. He was remanded in custody until sentencing at a court in Craigavon on Monday.
The trial Judge Stephen Fowler outlined what happened in the lead up to the attack.
He said that Titheridge and another man had initially encountered the victim as she walked home across the Peace Bridge after a night out with friends.
Judge Fowler then gave details of the attack itself in the grounds of Foyle College, saying the victim initially fought back and escaped Titheridge before he pursued her and raped her.
In reaching his judgement, Judge Fowler said that he took into account the level of violence used, the fact that the attack was prolonged and persistent, and that the incident occurred at night in a secluded area.
Judge Fowler referred to the fact that the victim was alone and had suffered "a profound degree of harm" as a result.
He said therefore that the culpability of the accused was "high".
Titheridge was permanently barred from ever working with children or vulnerable adults.
He was also made the subject of a Sexual Offences Prevention Order for a period of five years following his release.
A term of six months imprisonment was also handed down, concurrently, for the assault occasioning actual bodily harm.