Man gets 14 months for Limavady one punch attack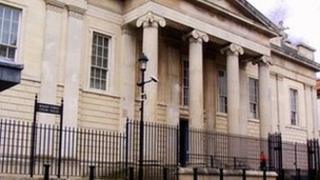 An 18-year-old man has been jailed for 14 months at Londonderry Crown Court for a single punch attack that left his victim with a fractured eye socket.
Mark Harry Deehan, from Glenview Park in Limavady, pleaded guilty to the attack, which took place in Linenhall Street in the town on 18 March last year.
Deehan, who had no previous convictions, punched the 21-year-old victim in the face in an unprovoked attack.
The victim was knocked unconscious by the blow and fell heavily face first against shop shutters.
He later had a metal plate inserted around his left eye socket and had to undergo several operations to straighten his broken nose.
The judge described the incident as a very serious stranger attack.
He said Deehan will spend five months of the sentence in jail and nine months on licence.