Slievemore Nursing Unit to close by end of May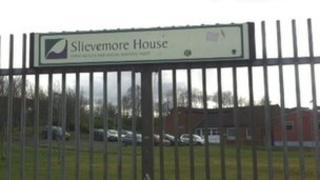 A Londonderry nursing unit which houses people with dementia will close by the end of May, the Western Trust has confirmed.
Thirty-one staff and the families of the six patients at Slievemore Nursing Unit were told at a meeting on Tuesday.
A recent report found it was effectively operating as a nursing home but did not meet the standard required to be registered as such.
Relatives said they are angry and worried.
Jane Dunton's husband is one of the six remaining patients in Slievemore.
"I'm feeling angry, anger's my first feeling.
"We don't know what's going to happen. We feel like we're up against a juggernaut.
"The care at Slievemore has been perfectly adequate for all these years and a great team of staff have been built up, and now that team's being split in all directions.
"It's a disgrace really because people with dementia need a secure environment and a familiar environment, and it's going to be very detrimental to their quality of life, to be moved," said Mrs Dunton.
An inspection by the Regulation and Quality Improvement Authority (RQIA) in January found that the care provided in Slievemore was no different to that delivered in a nursing home, and it should be registered as such.
However the Western Trust said the unit was established as a hospital ward in the community, and therefore did not meet required nursing home standards "and could not be made to do so".
"In addition, the Western Trust commissions all nursing home care through the independent sector, as is standard practice across Northern Ireland."
Alan Corry Finn, the Trust's Executive Director of Nursing and Director of Primary Care and Older People's Services, said that for these reasons "the Trust has no alternative but to cease to operate services at Slievemore from the end of May".
"We appreciate that this will be a difficult time for our patients and their families and the Trust is committed to supporting them through the transition between care facilities."
He also said there would be no compulsory redundancies, and all 31 staff would be offered alternative employment at other Trust facilities.