Search resumes for Kieran McKeon in River Foyle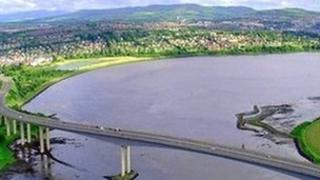 A search of the River Foyle has resumed for an 18-year-old man from the Republic of Ireland.
Kieran McKeon went missing in Londonderry in the early hours of Thursday morning.
He had travelled to the city with Alexandra O'Brien, 21, whose body was recovered from the river on Thursday.
Foyle Search and Rescue are concentrating their efforts on the area between Culmore and Newbuildings.
Craig Smith of Foyle Search and Rescue said that searches over the past five days had shown up no evidence of anything in the river.
"Yesterday, the Irish coastguard came from Greencastle to search the southern side right up to Culmore," he said.
"Ourselves, we searched from Culmore all the way to Newbuildings.
"We also had the civil air patrol from Skywatch. They brought down some of their small drones and searched the area below the Foyle bridge where there's high reeds and it's just impossible to access.
"We ruled that out to make sure there's nothing lying in there."