Girl suffers eye injury in stone attack on Galliagh bus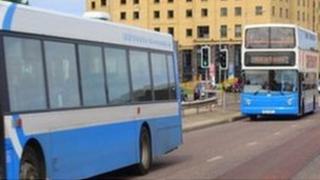 A girl suffered eye injuries after a group of young people smashed the windows of two buses in Londonderry over the weekend.
The attacks happened on Saturday at about 15:30 GMT in Galliagh in the city.
Ulsterbus services were suspended for a time following the incidents.
The services were fully restored on Sunday afternoon following meetings with local community leaders.