Sister of woman found in River Foyle never met her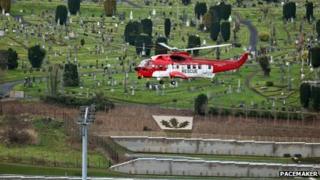 A sister of the woman who was found dead in the River Foyle last week has said she never got the chance to meet her.
Alexandra O'Brien's remains were found by Foyle Search and Rescue on Thursday.
Her sister, Marcella, was adopted along with one of her brothers, and she spent years trying to trace her.
Two years ago on her 21st birthday, Marcella finally got a card, photographs and a letter from Alexandra, who lived in the Republic.
The two girls were part of a family of 12 siblings, five living in Northern Ireland, and seven in Dublin, and Marcella longed to meet up with the others.
"I didn't understand because I was up north why social services couldn't allow us to meet," she said.
"I couldn't see what the difficulty was," she said. "I suppose a part of me did feel a bit lost.
"There was something missing in me and it was my siblings."
When she was 13, she started, as she put it, "pestering" social services more, to find out who she was and where she belonged.
"It was then I got the details of who were the guardians of Alex and I sent a letter. They forwarded it on and it was a waiting game.
"On my 21st birthday I got a card and a letter and photographs."
Alexandra and Marcella stayed in touch for two years without ever actually meeting.
"She's just the spitting image of me," Marcella said.
"It was just like looking at yourself."
She described the moment when she heard the news that her sister's remains had been found in the River Foyle.
"I turned up the radio and they someone ran away from Dublin to Derry and I thought, you know what, it's probably one of my crazy ass family."
She wrote a letter to Alex and to her parents, put flowers on the railing of the Foyle Bridge, and then went to the police to ask for them to pass on the letter.
"I thought I had all my life to share with her. I never pushed, I took it easy."
She said she spent all her life searching, crying herself to sleep, but felt welcomed after her sister's death as part of their family.