Police call for witnesses to 'suspicious' Londonderry fire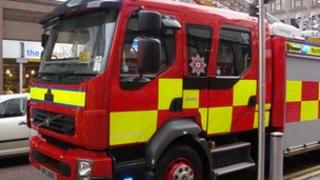 Londonderry police have described an overnight fire in a city centre bar as "suspicious".
Firefighters used four pumps and an aerial appliance to put out the blaze at Masons Bar in Magazine Street.
The fire started around 04:00 GMT in the ground floor of the building.
An exterior door of the pub was damaged and there was smoke damage to the inside of the building.
District Commander Barry McDowell said firefighters used breathing apparatus to enter the bar to ensure there was no-one inside.
"We know where the seat of the fire was and we're just starting an investigation into the cause," he said.