Londonderry firefighters trained in water rescue skills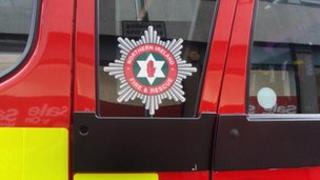 More than 50 Londonderry firefighters have been trained to rescue people from floods or rivers.
They no longer have to rely on using lifelines or other land-based methods.
The new service will work alongside Foyle Search and Rescue and will be based at Crescent Link fire station.
Its teams can be deployed across Northern Ireland. Group Commander Mark Deeney said it could make a big difference to water rescues.
"Previously we didn't have any equipment or training to enable people to go into the water, be it wading rescues or swimming rescues," he said.
"Now we can deploy people to wade into the water to a certain depth, or we can deploy people to swim in the water," Mr Deeney added.