Londonderry drama student to perform at Shakespeare's Globe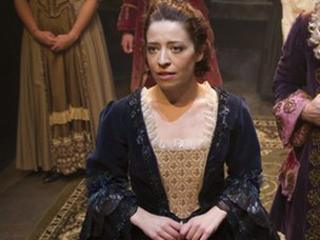 A young actress from Londonderry has been chosen to perform at Shakespeare's Globe theatre in London.
Caoimhe Farren will be on stage with more than 40 other actors from the UK's top drama schools.
The performance on Sunday 7 April is part of the Globe's annual Sam Wanamaker Festival.
"Regardless of the opportunities, I'm just so excited to be part of the festival itself," she told BBC Radio Foyle.
Several young actors have used the festival as a springboard to join the Globe theatre company, or to begin their professional careers.
For Caoimhe, a third year student at the Academy of Live and Recorded Arts (ALRA) in London, a life in the theatre has been a long-held ambition.
"I remember when I was six at primary school being Tiny Tim in A Christmas Carol and since then I've always been involved in some way or another," she said.
The festival was first held in 2007 in memory of the Globe's founder, American actor and director Sam Wanamaker, who campaigned to rebuild Shakespeare's theatre on the south bank of the River Thames in London.