£4.5m regeneration project for Omagh town centre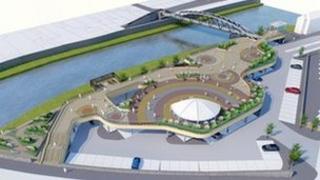 Omagh town centre is to benefit from a £4.5m regeneration project.
The plan to create a cultural and social focal point within the town centre will be funded by the European Union's Peace III programme.
On Thursday, the environment minister, Alex Attwood, announced planning approval for the project.
He said it would "make a real difference to the lives of people in Omagh and the surrounding areas" and would "revitalise the town centre".
Pedestrian bridge
The minister also said the project would "aid the economy by providing increased opportunities".
Plans for the area include the construction of a new pedestrian bridge between Drumragh Avenue car park and Old Market Place, as well as a riverside walk and exercise areas.
The project, which will partially occupy lands at the car park, will also include a covered performance and stage area and a neutral civic space to accommodate markets.