114 Derry gorse fires over Easter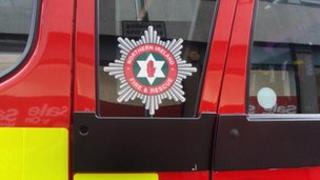 The Northern Ireland Fire and Rescue Service (NIFRS) has dealt with more than one hundred gorse fires in the Londonderry area in the last week.
According to new figures released by the NIFRS, there were 229 gorse fires in the Western Trust area between 1-7 April, including 114 in Derry.
Across Northern Ireland, they attended 387 gorse fires in the same period.
Assistant Chief Fire Officer Dale Ashford called on the public to be vigilant during the dry weather.
"Dealing with these types of incidents puts not only firefighters' lives at risk but the lives of everyone in the local community and puts additional pressure on NIFRS resources," he said.
"Fighting gorse fires mean that fire appliances and firefighters are diverted from other potentially life-threatening emergency incidents in the local community.
"It's not just the larger fires on hillsides and mountains that impact upon resources, the smaller fires involving grass bushes also need to be dealt with quickly as they have the potential to spread and develop into bigger fires.
"While the majority of gorse fires that we attend are started deliberately they can also start unintentionally by thoughtless and careless behaviour.
"Both deliberate and accidental fires can cost lives and we recommend that the public heed our fire safety advice to protect themselves and our countryside."