Teenage boy rescued from sinking sand outside Derry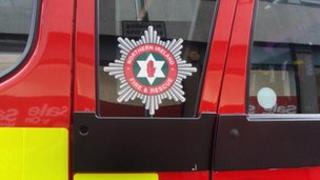 A teenage boy has been rescued after he became stuck up to his waist in sinking sand and mud outside Londonderry.
The boy, thought to be 14, got into difficulties at Moy Road, Cullion, between Derry and Strabane, at about 20:00 BST on Tuesday.
Neighbours and friends had been trying to pull him out when the Northern Ireland Fire & Rescue Service arrived.
Barry McDowell, the service district commander, said the boy was holding on to a line when they got to the scene.
"Neighbours had thrown him a line to keep him above the surface until we got there, but conditions were very arduous," he said.
"The sinking sand was down a steep bank and in the middle of trees, and the conditions were very dark and treacherous for firefighters to work in.
"The boy was in a state of shock but he was still conscious and able to talk to us, and we carried out the rescue using some improvised firefighting techniques using short extension ladders, lines and some new equipment we have, an inflatable sledge.
"We made our way out to him across the surface of the sinking sand and assisted him on to the sledge and then pulled him along with the firefighters back across the sinking sand."
The teenager was assessed by paramedics before being taken to hospital.