Radio 1 Big Weekend: Ticket release delayed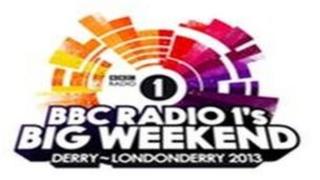 Tickets to the Radio 1 Big Weekend in Londonderry which were due to be released on Tuesday morning will now not be available until Wednesday
BBC Radio 1 have apologised and said technical issues are to blame.
The tickets will now be available from 09:00 BST on Wednesday 17 April.
Olly Murs and Two Door Cinema Club are among the artists already confirmed.
On their Facebook page Radio 1 said: "Due to technical issues that have come to light in the last hour we will have to delay making Radio'1s Big Weekend tickets available.
"Please do not try and access the Radio 1's Big Weekend website or call the ticket line until that time.
Technical issues
"We are really sorry for the inconvenience this will cause - this is due to maintenance issues that took place overnight. We will give you more information shortly."
Jason Carter, head of live music and events at BBC Radio 1 told BBC Radio Ulster's Nolan programme that due to the technical issues the decision was taken to postpone the release.
"Some people did have access to the site when the tickets were due to be released but in order to give everyone a fair chance we decided to postpone."
It is the second year in a row there have been problems. Fans had difficulties getting hold of tickets for Radio 1's Hackney Weekend in March last year.
Organisers say 45% of the 37,500 tickets will be reserved for people living in the Derry City Council area.
A further 45% will only be available for people in Northern Ireland with the final 10% on offer for other people across the UK and the Republic of Ireland.
Tickets are free but there is a handling fee of £5 per pair.
The full line-up for the three-day festival on 24, 25 and 26 May will be announced in early May.
Under-16s hoping to go will have to be accompanied by an adult over the age of 18.
The two stages will be set up in the heart of the city at Ebrington Square and the Pavilion, with 12,500 attending each day.