St Patrick's in Londonderry wins BBC Choir of the Year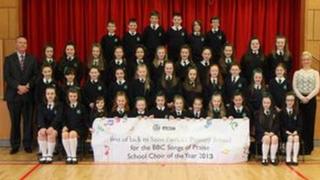 A primary school in Londonderry has been crowned the BBC Songs of Praise School Choir of the Year.
Saint Patrick's in Pennyburn beat five other finalists to take the 2013 junior title in Liverpool.
Their rendition of the inspirational Joshua Fought the Battle of Jericho beat runners-up Putney High School in London and Hymers College in Hull.
St Patrick's music teacher, Ursula Cullen, said it was "a dream come true".
"It's been an emotional journey," she said.
"We were runners up last year and I thought we had to give it another shot. It's our year as City of Culture and we wanted to make the city proud."
The 40-strong choir secured its place in the finals with a rendition of On Eagle's Wings.
The finals took place in March, but the pupils were told not to reveal the news until they were broadcast on BBC One on Sunday 21 April.
"It was probably Derry's worst kept secret," laughed Ursula.
"When you have 40 enthusiastic children who're bursting with pride, not to mention their mums and dads, it's no easy task."
Miss Cullen said the children were determined to win.
"We were rehearsing three and sometimes four times a week after school," she said.
"They knew it was a big deal and we were constantly working at developing and honing their skills as singer and listeners.
"We're not quite sure how we're going to follow this one up".