DUP and Sinn Fein row over Londonderry's Guildhall symbols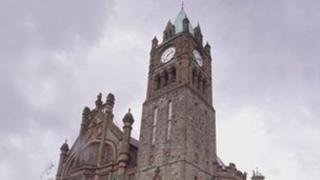 The DUP has said it fears the Guildhall in Londonderry is being stripped of its British symbols.
The 19th Century building was closed in 2012 for a multi-million pound renovation and will reopen in June.
At a meeting on Tuesday, the DUP and Sinn Fein clashed over a new exhibition on the Ulster Plantation and a proposal to amend the Guildhall's branding.
Sinn Fein said it wanted the building to reflect the lives of all in society.
The party objected to having the UK prefix in the City of Culture title in part of the new exhibition.
The DUP opposed a call to have Doire, the Irish name for the city, included on Guildhall branding along with the names Derry and Londonderry.
Both motions were passed by Derry City Council.
The DUP's Maurice Devenney said unionists could live with the Derry/Londonderry name but "couldn't accept Doire".
"I worry this is more stripping away of our Britishness within nationalist controlled councils," he said.
Sinn Fein's Paul Fleming said that was not the case.
"It isn't about stripping out anything from the Guildhall. The building needs to be reflective of all the citizens of this city and district."
A working group will be set up to look at the issue of symbols and what the building should be used for.
The SDLP's Gerard Diver rejected DUP suggestions that a working group might be the first step in removing British symbols from the Guildhall.
"That is not what our party is about," he said.
"That flies in the face of what we're trying to do which is to create a space for a shared society. The DUP shouldn't have anything to fear from that."