Maghera and Aghadowney primary school closures approved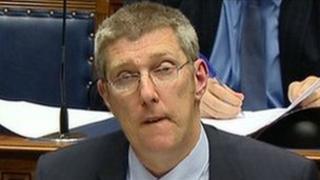 The closures of Drumard PS, Maghera and Cullycapple PS, Aghadowey, both County Londonderry, have been given final approval by Education Minister John O'Dowd.
Scores of primary schools in Northern Ireland are facing closure.
The viability of all of Northern Ireland's 846 primaries was examined in depth last year.
Some schools were identified for closure due to overspend, too few pupils, or providing poor education.
Each of the five education boards published a plan for its own area on the Department of Education's website.
In the North Eastern Educational and Library Board (NEELB) area, three controlled primary schools had been approved for closure: Drumard, Cullycapple and Dalriada prep school in Ballymoney.
There is also a proposal to amalgamate another 22 schools in the NEELB area.
In March, principal of Drumard Peter Wilson told BBC Radio Ulster that his primary had seen an "acute decline in enrolment" over the last 10 years.
However, Mr Wilson said children were very adaptable and would settle in a new school.
"Probably parents do not need to worry too much. For staff, we are going through a very demoralising few months. It is a whole year's process to bring a school to a close," the principal added.
John O'Dowd said a steady decline in enrolments had meant there were only 13 pupils enrolled in Drumard this academic year and only 20 enrolled at Cullycapple PS.
"The local area offers sufficient alternative provision for all these children and any others from the area in the future," he said.
"These other settings are within reasonable distance and will ensure that the children have the opportunity to mix with a wider range of peers, boosting their learning experience. I am confident that everyone at the school will ensure a smooth transition for the children.
"I wish all those pupils who will be changing school the very best for the future."
Mr O'Dowd paid tribute to everyone connected with the two primary schools.
The schools will close with effect from 31 August 2013.