Stormont committees visit Londonderry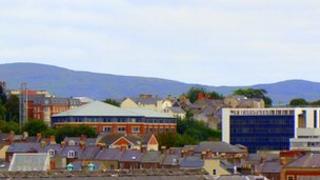 Six Stormont committees are taking place in Londonderry on Wednesday.
It is the first time so many committees will meet in the one place at the same time outside of parliament buildings.
The visiting committees are health, employment and learning, finance and personnel, public accounts, education and for the office of the first minister and deputy first minister.
The meetings will be held at Magee, the new Ebrington barracks venue and at the North West Regional College.
Speaker of the Assembly and Foyle MLA William Hay said he was "obviously keen" to see the assembly come to the city.
"The assembly is committed to ensuring that as many people as possible have an opportunity to take part in the political process, to influence the work that we do and to see politics at work," he said.
"Bringing nearly half the assembly committees to the north west demonstrates how serious we are in pursuing this goal."
A number of local issues will be discussed by the various groups.
The health committee will visit the Foyle Hospice and will meet researchers from Magee's Bamford Centre for Mental Health. The employment and learning committee will receive a briefing on the Derry City Council employment programme. The Ilex Urban Regeneration Company will brief the committee for OFMDFM on its work as well as on the regeneration of the city's former military sites.
The director general of the assembly, Trevor Rainey, said the committees would also carry out normal meetings on "substantive issues".
"It is one of the assembly's deeply held goals to reach out into the local communities to give members of the public, voters, the opportunity to engage with the assembly, to meet members to understand the work of the assembly, so this is one element of an ongoing programme," he said.
The committee meetings are open to the public.