Plans to close busy Derry street during music festival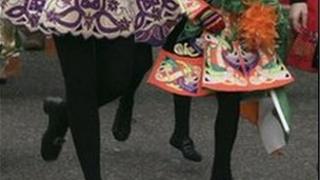 There are plans to close one of Londonderry's busiest streets to traffic during the all-Ireland fleadh.
Up to 300,000 people are expected in the city for the world's largest Irish traditional music event in August.
The fleadh organisers told traders on Wednesday there was a plan to close Shipquay Street in the city centre for the week long event.
Cafe owner Declan Moore said a pedestrian-only zone was a good idea.
"As traders, we welcome anything that is going to keep people in the centre of the town," he said.
"There will obviously be disruption but the fleadh is going to be huge and we hope to do some good business."
Anne-Marie Gallagher, the event's marketing officer, said: "It's hard for people in Derry to comprehend but the fleadh is going to be all over the city centre.
"There are 300,000 people on the way and they will be moving around Shipquay Street, Waterloo Place, Guildhall Square and the quay. It's a massive event."
The organisers of Fleadh Cheoil na hÉireann will launch the official programme in Derry on Thursday.
Anne-Marie Gallagher said: "Our headline acts include Cara Dillion and the Orchestra of Ireland, Seamus Heaney and Liam O'Flynn.
"The Transatlantic fleadh will feature the best artists from Ireland, Scotland and north America and there's much more. When people see the full programme they will soon realise the scale of what is going to arrive in Derry in August."