PSNI use flower power to fight crime in Londonderry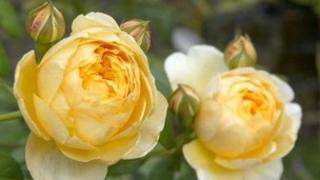 Flowers and plants are being used to fight crime by police in Londonderry.
Officers have teamed up with gardeners in the city, to promote the benefits of climbing roses and prickly hedges in defending homeowners against burglars.
Green-fingered householders were given PSNI security tips on how to fend off light-fingered thieves at the event in Clooney community centre on Thursday.
"We would class it as defensive planting," said Kenny McHugh, from the PSNI's crime prevention branch.
'High thorn content'
"It gives the residents, the local community, the tools to protect their own homes using flower power," he added.
"You go around housing estates and residential developments and you see a lot of fencing and blank walls.
"What we are trying to encourage, through the police service, is actually using plants such as climbing roses, barbarous plants that have a high thorn content, so you can actually protect your property."
So, have plants been recruited as the PSNI's new special branch due to a growth in the rate of break-ins?
"No, quite the contrary actually," said Mr McHugh.
"Crime figures across Northern Ireland, certainly in domestic burglary in a lot of areas is coming down, and certainly in the Waterside also.
"As members of police staff it's not just about detecting crime its about preventing crime, and as a crime prevention officer, that's what we're employed to do."
The event was also used launch a new PSNI public information leaflet on defensive planting, which gives practical gardening tips on "nature's way to beat the burglar".
"With careful thought and planning you can reduce the risk of becoming a victim of garden crime, whilst at the same time, creating an attractive garden," the leaflet says.
It addresses the thorny issue of vigilante vegetation and gives a warning to all that hedges can fight back.
'Spike rating'
"Criminals do not like climbing through prickly plants and hedges. They know that a small item of ripped clothing or blood can help the police identity them," the leaflet states.
It also lists some of the best plants to deter intruders, and includes a "spike rating" for each.
It advises homeowners that they can create "an impenetrable hedge".
Other tips include placing gravel underneath windows and doors, because "thieves don't like to be heard".
"Crunchy gravel on the approach to the house, which gives away their presence is ideal."
It suggests that homeowners use a "DNA type liquid property marking system" to protect their garden furniture from theft, and reminds them to lock up outhouses and sheds
Mr McHugh said: "When you look at the value of property that's actually stored in your shed, on average you're taking about £1,200 up to £1,500. That's very attractive to a burglar."