Union flag complaint made against roads service employee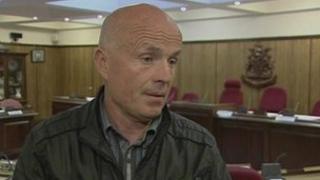 A claim that a roads service employee helped to erect union flags along a road in County Londonderry is being investigated by a Stormont department.
Sinn Fein has lodged an official complaint with the Department for Regional Development (DRD), which is responsible for the roads service.
The complaint alleged that the staff member was "central" to the erection of flags in Limavady last Friday.
The DRD said it was aware of the complaint and was investigating.
'Great concern'
The complaint was lodged by Sean McGlinchey, a Sinn Fein councillor in Limavady.
Mr McGlinchey told the Derry Journal that he had acted after being contacted about the matter by a member of the public and added that he viewed the allegation with "great concern".
The complaint the councillor sent to the DRD alleges that "a member of Roads Service was central to the erection of flags on lamp posts on the Edenmore Road in Limavady on Friday 21 June".
Speaking to the BBC, Mr McGlinchey said the flags were a mixture of union flags and "other flags" but none of them were paramilitary flags.
The councillor also confirmed that the roads service employee was not on duty at the time.
But Mr McGlinchey added that he did not think it was appropriate for a senior public servant to be involved in erecting union flags at roadsides.
He said that if he, as an elected councillor, was involved in erecting tricolours on lamp posts there would be an outcry, and "rightly so".
A DRD spokesperson said: "The department is aware of a complaint relating to a member of staff. This matter is now being investigated"