Man with samurai swords 'had urge to hurt people'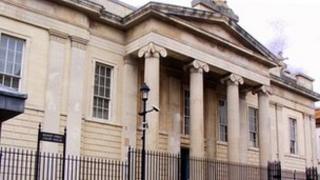 A martial arts expert who told the police he "had the urge to hurt people" has been remanded in custody at Londonderry Magistrates' Court.
Shane O'Kane, 39, from Bleach Green, Dungiven, County Londonderry, was arrested when he armed himself with two samurai swords and a knife.
His partner also alleged that he had threatened her several times with the swords.
A police officer said that he had previous convictions for assault.
She also believed he was a risk to his partner, his three children and to the public.
O'Kane had phoned the police in an emotional state from Main Street, Dungiven in the early hours of Sunday morning and said he was armed with the swords and knife.
The police sealed off both ends of the street before speaking to him.
Police officers drew their firearms and persuaded him to drop the two swords.