Londonderry men sentenced for rampage at historic An Grianan Fort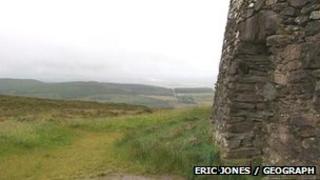 Two 20-year-old Londonderry men who went on a rampage at one of Ireland's most historic sites have received suspended jail sentences.
Raymond McCormick of Ballbane Pass, and William Sweeney of Oaklands Park, both Creggan, were sentenced in Buncrana District Court in County Donegal.
They were part of a gang of 40 that caused damage at An Grianan Fort in Burt, County Donegal.
Both men received a month's jail sentence, suspended for a year.
A policeman told the court how a drink-fuelled party, which was organised partly through Facebook, took place at the ancient fort last weekend.
When he arrived he found that revellers had defecated in a well and on walkways.
Beer cans and women's underwear were found strewn on the site and parts of the fort had been dismantled.
'Not main culprits'
Tourists had witnessed the scenes and had also been verbally abused.
The two accused had been charged with causing criminal damage by throwing cans and also some ancient stones from the fort.
A defence lawyer said his clients were two of 40 people and were not the main culprits.
But the judge replied: "Nobody forced them to come here and nobody forced them to tank themselves up with drink."
The men also had to pay costs of 900 euros (£776) before they were released.
The judge added: "What they did on this day and specially the treatment of visitors was absolutely appalling - intimidating and harassing an American woman and Chinese family. It will not be tolerated."