Pair charged with sexually attacking girls in Derry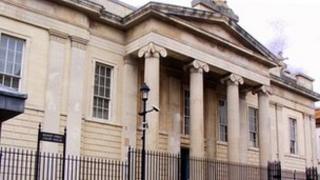 Two men have appeared in court in Londonderry charged with sexually attacking two schoolgirls in the city at the weekend.
Baryalia Safi, 40, from Glenbeg Court in Coleraine, County Londonderry, is charged with sexually assaulting a 14-year-old in a flat in Asylum Road in Derry on Saturday.
33-year-old Hossein Hamati, also from Glenbeg Court, is accused of sexually assaulting a 15-year-old.
They were released on bail and the case was adjourned until 31 July.
A police officer told the district judge that the defendants picked up the girls outside a city centre bar just before 03:00 BST on Saturday.
He said they told the girls they were going to a party, and invited them to join them.
The officer said the girls were then driven to the flat, where the defendants gave them vodka.
One of the girls was allegedly sexually assaulted in the bedroom, and the other in the living room.
Afterwards they left the flat and went to Strand Road police station, where they made the allegations against the defendants.
The men were arrested in the pizza parlour where they work in Ballymoney, County Antrim, and spent the rest of the weekend in custody.
The police officer said she objected to bail being granted because she believed that if released, they could flee the jurisdiction.
Mr Safi was born in Afghanistan, and Mr Hamati in Iran.
Their solicitor said Mr Safi had two children and an ex-wife in Northern Ireland, and Mr Hamati has applied for citizenship.
The district judge said he accepted both defendants have a long association with Northern Ireland.
The defendants were released on their own bail of £500, plus two sureties of £2,500.
They were ordered to be electronically tagged, banned from drinking alcohol, and ordered to observe a curfew.
They were also banned from unsupervised contact with children under 16 - apart from Mr Safi's visits to his own children - and from contacting their alleged victims.
The defendants were also ordered not to enter Derry.