Derry teen charged with crashing into police Land Rover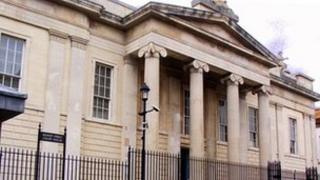 A teenager has appeared in court in Londonderry charged with stealing a pickup truck and crashing it into a police Land Rover.
Emmett Noel Smith, 19, from Marianus Park, is accused of committing a total of nine road traffic offences.
They are alleged to have happened in the Groarty Road, Buncrana Road and Bligh's Lane area of the city on Monday night and Tuesday morning.
He was remanded in custody until Monday.
The other charges include stealing car wheels and red diesel valued at £220, possessing a pickup truck which had been stolen in County Donegal, and damaging a variety of cars and car door handles.
He is also accused of dangerous driving and driving without insurance or L-plates.
Defence solicitor Kevin Casey said he was not in a position to apply for bail because no suitable bail address was available.
A bail application will be heard on Monday.