Limavady celebrates 400th anniversary on air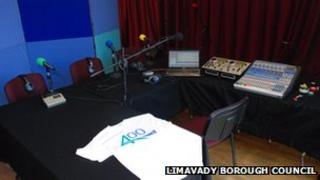 A temporary radio station has been launched in Limavady, County Londonderry, to help celebrate the 400th anniversary of the granting of the town's royal charter.
The station's frequency is 106FM and will be live on 8, 9 and 10 August.
The station has been named Limavady 400 FM.
The charter was granted for Limavady on 31 March, 1613, in Dublin during the Plantation of Ulster.
Limavady Borough Council said the station has been created to bring the community together including the voluntary, sporting and business sectors.
Station coordinator, Peter Vamos, has called on the town to make the station their own.
"An electrical storm has hit Limavady, the likes of which has never been felt before," he said.
"Limavady 400 FM will crackle to life and blanket Limavady and Ballykelly with a new, exciting and energetic sound for three fun-filled days.
Live music
"This temporary radio service will embrace the music, culture, history, activities and soul of Limavady by shining the spotlight on the people and groups who make the town great."
The station will broadcast live from the Roe Valley arts and culture centre at Drumceatt Square, Limavady.
Other activities throughout the weekend include cardmaking, storytelling and laser shooting.
There will also be live music at Drumceatt Square on Saturday where visitors will get the chance to be on the airwaves.
Celebrations will continue throughout the year including the temporary return of the Broighter gold hoard, which was found by Tom Nicholl on farmland near Limavady in the 19th Century.
The treasures include a golden boat, torc and bowl and are currently held by the National Museum of Ireland in Dublin.