Fleadh to be a 'spectacular weekend' in Londonderry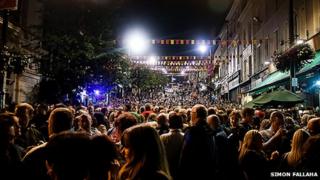 All-Ireland Fleadh organisers have said that the people of Londonderry can look forward to a spectacular weekend as the festival reaches its climax.
An estimated 300,000 people are expected to have visited the city by the end of the week.
Crowds from across the world have descended on a number of campsites.
Thousands have been enjoying indoor fleadh events but the majority of people have been taking to the streets with traditional instruments.
Director General of Comhaltas Ceoltóirí Éireann, Labhrás Ó Múrchu, said Derry had impressed everyone.
'Biggest event'
"I'd be very surprised if Derry doesn't put forward an application again to host the fleadh in the near future," he said.
"The street atmosphere is really something else and I'm pleased at how things have been going.
"The loyalist band performance was sold out at the start of the week as were many of the events.
"I'm looking forward to Saturday when all kinds of bands will be playing at Ebrington Square. It's going to be spectacular. We are almost at the stage where we can drop tags and titles and just use the word bands in general.
"People talking to people is the highlight. I don't believe we will ever stop the momentum of what has started here in Derry."
Ch Supt Stephen Martin said: "The fleadh is possibly the biggest event in the history of Derry."
Despite large crowds, he said there had only been a small number of arrests.
"These incidents were very small and considering the amount of people in the city, things have been very calm."
Campsites have opened at Fort George, City of Derry Rugby Club, Prehen, Elaghvale, Templemore Sports Complex and the Waterside area.
People have been travelling from the Republic of Ireland and across the world including, China, America, New Zealand and Austria.
Mick Glynn from County Mayo said people from everywhere had been enjoying the musical buzz.
"The people of Derry and those in the campsites have really made this a home from home. It's a fantastic atmosphere of caravans, campervans and banjos.
"This will be a weekend to remember."
Grania Banks from Sligo has been to Irish traditional festivals across Europe.
"This was the number one date in my diary all year. It's just fantastic the way people can chat, play music and enjoy each other's company."
Competitions will take place on Saturday at Ebrington Square with the big finale on Sunday.