Londonderry gun attack was 'brutal execution'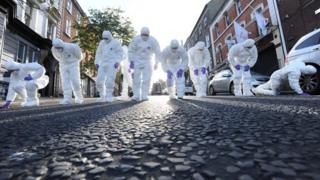 A man has been shot dead in a flat in Derry city centre, in what police have described as a "brutal execution".
Barry McCrory, 35, was shot in the head at Shipquay Street just before 10:30 BST on Thursday.
His partner was forced into another room during the gun attack, and has been left "highly traumatised".
There has been widespread condemnation of the murder and the killing of a man in Belfast within 48 hours.
Detectives said they were keeping an open mind about the motive for the murder of Mr McCrory, but believe one man carried out the "horrific" attack.
Detective Chief Insp Ian Harrison said: "This was a brutal execution of an individual. No person has a right to be judge, jury and executioner."
The police said the shooting happened between 10:20 BST and 10:30 BST. They believe the suspect was wearing dark clothes and carrying a rucksack.
Police have not revealed how many times Mr McCrory was shot.
Secretary of State Theresa Villiers condemned both murders.
"The murders of two men in Londonderry and north Belfast are abhorrent and brutal crimes, for which there is no excuse," she said.
"I am sure the police will leave no stone unturned in bringing to justice the people responsible for these disgraceful attacks."
The murders were condemned by Deputy First Minister Martin McGuinness.
"Those responsible claim to be dissident republicans. They are not republicans of any shade. They are entirely motivated by criminal intent," he said.
SDLP Foyle MP Mark Durkan said: "I strongly condemn this despicable and cowardly attack.
"People in Derry utterly reject any such violence."
He added: "Shootings like this are resented not just as ruthless attacks on individuals but also as attacks on the peace and image of the city."
DUP councillor Gary Middleton said: "Everyone is in shock.
"I totally condemn all use of violence on our streets."