Pensioner jailed for assaulting nieces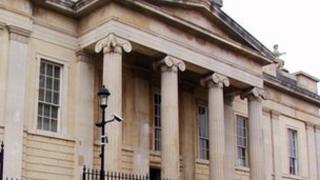 A 74-year-old man has been jailed for three years at Londonderry Crown Court for indecently assaulting two of his nieces over a 12-year-period.
The man admitted 31 charges of indecent assault against the two women that began in the late 1970s.
Judge Philip Babbington said the man was godfather to one of the girls and the abuse took place when they visited their grandmother's house.
He said it was a "massive breach of trust".
The man cannot be named for legal reasons.
The court heard that in the case of one of the nieces, the abuse began when she was aged four and continued until she was in her mid-teens.
The abuse of the other niece began when she was five and continued until she was about 14.
The judge said: "In some cases, the man would give the children money after assaulting them."
The man was ordered to sign the Sex Offenders Register for a period of 10 years and a Sexual Offences Protection Order was imposed for a period of five years.