Man charged with driving into house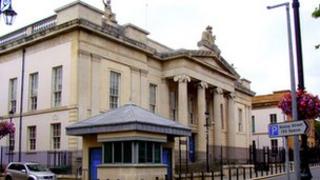 A 28-year-old man has appeared at Londonderry Magistrate's Court charged with six offences linked to an incident in which a car crashed into the front porch of a house.
The car crashed into the house in Cornshell Fields in Derry on Sunday.
Samuel McGinley, from Cornshell Fields, has admitted dangerous driving, drunk driving and failing to stop.
He also admitted failing to report and to remain at the scene of an accident.
The defendant denies assaulting a witness.
A police officer told the district judge that the defendant has 34 previous convictions in Northern Ireland and 32 previous convictions in the Republic of Ireland where 13 warrants have been issued against him for failing to answer court bail.
The officer said the defendant was arrested in a house at Cornshell Fields shortly after the incident.
During his interview he apologised for his actions and offered to pay for the structural damage that he caused to the house.
Applying for bail, a defence solicitor said the defendant was due in court for an application to have his driving licence restored.
The defendant was released on his own bail of £1,000 together with a cash surety also of £1,000 to appear in court again on 14 November.
As part of his bail conditions he is to be electronically tagged, banned from going within 500 metres of Cornshell Fields and ordered to report each day to Strand Road police station.