Londonderry railway station consultation results delayed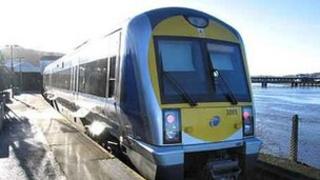 The results of a public consultation over the future of the Waterside railway station in Londonderry will not be made public until at least February, ten months after the consultation closed.
Translink refused to release the information to BBC Radio Foyle, despite a Freedom of Information request.
A number of options were suggested ten months ago to the public.
The regional development minister and Translink were unavailable to comment.
The options were to either refurbish the current station in the Waterside, to relocate to the old Waterside railway station or to build a new station at Ebrington near the Peace Bridge.
In a statement to BBC Radio Foyle in June, Translink said: "We are currently finalising the consultation report and next steps which will include a series of briefings for key stakeholders.
Following this process, we will officially announce the results of the public consultation."
SDLP MLA John Dallat said: "I am sick to the back teeth of the stalling over this consultation.
"Translink are completely underestimating the importance of the railway line to Derry.
"I can't understand why they don't see the importance of a prestige building for the station, somewhere not just for passengers to wait but a tourist destination in its own right.
"Railways aren't just sleepers, there's a lot of tourist potential there."
It was announced in September that the second stage of a £22m upgrade for the Derry to Coleraine railway line was delayed for a further year.
Translink said it was having difficulty finding the right supplier for signalling equipment.
Plans to allow trains to pass each other will not be completed until 2016.
Eamonn McCann. from rail lobby group Into The West, said: "It's ridiculous that the results of a public consultation should be delayed to this extent.
"There are other funding sources available, and Into The West has written to Translink's chief executive to tell her of these. They include the national lottery and groups which preserve heritage buildings. I don't believe these avenues have been investigated."