Ecclesville centre, Fintona, concerts 'will continue'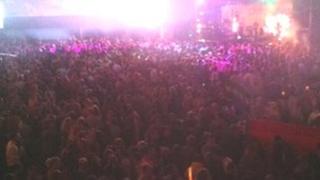 The management board of a centre in Fintona have said they will work again with the promoters of a country music event where a number of people were injured.
A number of people were "crushed and trampled on" at Saturday night's concert.
The Ecclesville centre board met with AJS Promotions on Tuesday.
Omagh District Council is investigating the incident in conjunction with the police and fire service.
In a statement to the BBC, the centre's management board said: "We extend our utmost sympathy to everyone who was involved in the incident and we wish to assure patrons that all necessary steps will be taken to ensure that such an incident will not occur in the future.
"AJS Promotions have organised and run approximately 30 events here at the Ecclesville Centre, all of which were well planned, and we hope to continue to work with them in the future."
Chairman of the Ecclesville centre, Councillor Allan Rainey, was at the board meeting on Tuesday.
"The first thing that was on our agenda was people's safety," said Mr Rainey.
"We don't want to be seen to be jumping to conclusions. To me, I thought the place was hiving with security staff on Saturday night.
"We are looking to the future. We are thinking about what we can run successfully in Ecclesville and we have those professionals within Omagh District Council who can advise us accordingly.
"We as a board are considering every single allegation and we are willing to continue with events that are safe. We don't want a similar incident happening in the future."
'Crushed and shoved'
One of the authors of the independent report into the Hillsborough Stadium disaster, said "people were minutes away from being killed".
Prof Phil Scraton said fans were "minutes away from disaster".
"Déjà vu of Hillsborough is the first thing I thought when I saw the video footage.
"These people are in a facility that is not built to accommodate a concert.
David McMahon, from Castlederg, who was at the event, said he saw people being "crushed and trampled on".
He added: "They were still selling tickets at 9 o'clock (21:00 GMT) on Saturday night and we were told that around 4,000 were already sold.
"We are very lucky we are not looking at death today. The amount of people that were crushed and shoved was disgraceful."