Family of Derry man Eugene Dalton 'need answers'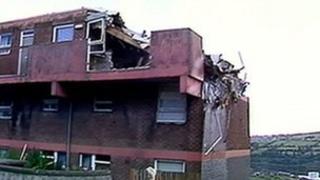 The family of Eugene Dalton, who was killed by an IRA booby-trap bomb in Londonderry 25 years ago, have called for the Police Ombudsman to re-examine their claims that the police were protecting an informer.
The booby-trap device exploded in the Creggan area on 31 August 1988, killing three people.
The ombudsman criticised the police for failing to warn people about the bomb.
The family of Mr Dalton say they made four complaints to the ombudsman.
In July the Police Ombudsman said there was a failure by the police to uphold the right to life of Mr Dalton, but that they could not substantiate the claim that the police were trying to protect an informer.
The family believe that a report by the Northern Ireland Retired Police Officers Association (NIRPOA), which criticised the police ombudsman's findings, shows there was an informer.
'Angry and annoyed'
NIRPOA said in October that they will not encourage members to engage with the police ombudsman on certain investigations.
The association said it would do so over historical investigations where breaches of the European Convention on Human Rights are alleged.
Rosaleen Quigley, Mr Dalton's daughter, said: "My father was an innocent man and he had a right to life. We are going to get justice for him.
"We had made four complaints and the fourth complaint was not upheld by the ombudsman. We had been working on the lines that the police had been protecting an informer.
"We are asking the ombudsman to look at our fourth complaint so that we feel all have been looked at. We need answers.
"It leaves us upset. You are just getting over one area and then all of sudden it all comes back again. It leaves you angry and annoyed. There is no settling at all."
The NIRPOA has written to Justice Minister David Ford complaining about the report.
The booby-trap device exploded at 38 Kildrum Gardens in the Creggan area.
Mr Dalton, 55, and Sheila Lewis, 60, died in the explosion.
A third man, Gerard Curran, was injured and died seven months later.
They had gone to the flat to check on the occupant, who had been kidnapped by the IRA as part of the bomb plot.